This is one of our most popular articles on this blog and we recently updated the article with fresh research and perspectives through 2018. One of the most frequent questions we receive at Asian Black Couples from Black men is, "Where can I meet Asian women?" In this article, we will break down the best Asian dating sites for Black men based on our research and why Asian dating sites make sense for many Black men.
We asked over 1,000 Black men and Asian women (BMAW) married couples and BMAW couples in relationships longer than one year, "How did you meet?" Here is what they told us:
HOW DID BLACK MEN / ASIAN WOMEN  (BMAW) COUPLES MEET
(ABC Original Research 2018)
33% Online Dating Sites
13% Online Social Media
13% Through Family and Friends
13% Parties or Activities
10% Through Work
 8%  Random in Public
 7%  Through College
 3%  Other
Two big observations here. A) Nearly half of all BMAW couples are meeting online, with 46% meeting online and 54% meeting in person. And B) Online dating is more than twice as popular than any other method of meeting for BMAW couples. Why is online meeting through the best Asian dating sites for Black men so popular for BMAW couples? Because Black men and Asian women do not tend to live and grow up in the same areas. In the US, the average neighborhood where Black people live only has 3% Asians living in that neighborhood. Even worst in the US, the average neighborhood where Asian people live only has about 1% Blacks living in that area. As shown below, there are only 10 counties in the US where the average neighborhood where Black people live has more than 10% Asians living there. If you live in one of these areas, as a Black man you have a much better chance of meeting Asian women in your day to day life locally, but otherwise Asian dating sites are your best choice!
Top US Places where Asians and Blacks Live in the same Neighborhood
Percent of Asians Living in the Average Black Neighborhood
Source: Brown University Sociology Department
Rank
US County
Exposure Index %
1
Honolulu County, HI
     52.0
2
Santa Clara County, CA (San Jose)
     32.7
3
San Francisco County, CA
     28.1
3
San Mateo County, CA (Daly City)
     28.1
5
Orange County, CA (Anaheim)
     21.2
6
King County, WA (Seattle)
     20.1
7
Sacramento County, CA
     19.7
8
Alameda County, CA (Oakland)
     19.5
8
Solano County, CA (Vallejo)
     19.5
10
San Diego County, CA
     14.3
US Average
       3.7
See our previous article, where we use this data along with some other interesting data to determine the Top 15 US Cities for Black Men, Asian Women Dating. No matter how they meet, the really beautiful thing though is that once Asians and Blacks do meet and interact, they find many similarities and they have wonderful loving relationships!
In a prior post, The Top Asian Dating Sites, we go into a lot of detail on many different Asian dating sites and how best to leverage them. It's a long article, but it's worth reading if you have not done so. In this post, we will assume you have read all the cautions from the prior post and we will go straight to our top 3 Asian dating site recommendations for Black men based on our research. In all 3 cases, we only recommend these sites when you are ready to be serious about finding a long term relationship or marriage. The Asian women on these best Asian dating sites for Black men are looking for long term serious relationships leading to marriage. If you are not ready for a serious relationship, these are not the best dating sites for you. If you only want a casual relationship, first realize that most Asian women do not date casually, so you will likely have a hard time trying to find Asian women to date you casually. For casual dating, you should try Tinder, Plenty of Fish, OKCupid, or some of the Facebook groups instead, which are all free and more oriented to casual relationships. These recommended dating sites are for Black men who are serious about finding love and we have seen many Black men find their wives on these sites. We also surveyed BMAW couples who met through online dating and these 3 dating sites were the top 3 dating sites used by far!
Top 3 Best Asian Dating Sites For Black Men
1. Filipino Cupid


As men, on most dating sites, you are accustomed to sending out lots of messages to women you are interested in and then receiving maybe a handful of responses back from the women. That rule of thumb does not apply at Filipino Cupid. More than any other dating site that we know, lots of Black men have been very successful at Filipino Cupid and have found their wife or fiance there. All of the Black men that we know who have used Filipino Cupid have had tons of responses from Filipina women on the site – sometimes even too many responses, including responses from women you never contacted. You really have to be focused on your requirements and needs on Filipino Cupid because there are lots of beautiful Filipinas on this site and it's easy to get distracted if you are not hyper-focused on finding the qualities you need in a woman. Filipina woman on this site are serious about finding a good man and they are not shy about reaching out to you first. True, there will be a few scamsters looking for money or a green card that you have to sort through, but the majority of the women are genuine, honest, real, and looking to find their soul mate.  Black men of all ages are successful here which is not always the case on other sites. Also don't forget to look for Filipinas located in the US, Canada, or elsewhere in North America or Latin America, if you want to find someone closer than the Philippines. In our survey of BMAW couples who met through online dating sites, Filipino Cupid was the #1 site for creating BMAW couples. If you think you might be compatible with Filipina women, Filipino Cupid is a serious no brainer as the best Asian dating site for Black men, so just do it.
2. Cherry Blossoms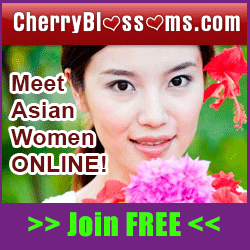 Cherry Blossoms is the granddaddy of Asian dating sites and has been around since 1974, starting first as a magazine and then converting to a website. They have been around for this long because their system really works, and many Black men have been successful with Cherry Blossoms. With Cherry Blossoms, you will find a wide variety of Asian women. The top places for the Cherry Blossoms women are China, Philippines, Korea, Thailand, Cambodia, Vietnam, and Malaysia, but indeed you will find women from all over Asia here. The other nice thing about Cherry Blossoms is their pricing which typically is a little less expensive than the other sites, making it very affordable in most cases. Cherry Blossoms also has good immigration support based on their many years of experience if you need that service. Similar to Filipino Cupid, we have seen Black men of all ages do well at Cherry Blossoms. If you want to explore a wider variety of Asian women with a very reputable and proven best Asian dating site for Black men, Cherry Blossoms is your place to go.
3. Japan Cupid

Last, but not least, we are seeing a number of younger and middle aged (20s to 40s) Black men doing well at Japan Cupid, which is owned by the same company that owns Filipino Cupid. You will not be swarmed by women at Japan Cupid the way you will be at some other Asian dating sites, but there are many beautiful quality Japanese women looking for love there. Japan has many differences from the west, some would say oddities, in their social and dating scene, so it really helps to know as much about Japanese culture as possible if you use Japan Cupid. Despite Japan otherwise being a technology leader as a country, dating sites are still not as trusted in Japan as other places, which is part of why younger guys seem to do better there. Japan is not a poor country, so that really changes the whole dynamic on Japan Cupid where men really have to pursue the women. The good news is that many of the Japanese women there will have either spent some time in the US or Europe, and will speak very decent, if not fluent English. While the majority of the Japan Cupid women will be Japanese, you will also see some Chinese, Filipino, and Korean women there trying to get away from the intense competition on the Chinese and Filipino sites in particular. For younger to middle aged Black guys who like Japanese women and can deal with the differences in Japanese culture, Japan Cupid is one of the best Asian dating sites for Black men and it is the way to go!
So these are the top 3 best Asian dating sites for Black men today based on our many interactions and research with BMAW couples. What about other Asian dating sites or general dating sites. Well in our prior post on top Asian dating sites, we recommended 7 dating sites – these three, plus four other sites – and we still stand by all 7 of those recommended sites, but if we have to narrow it down to sites where we have seen Black men be most successful, the 3 sites mentioned above are the absolute best of the best. Frankly, outside of the previously recommended 7 Asian dating sites, it gets real sketchy real fast, and we are not comfortable recommending any other Asian dating sites at this time. There are sites that we previously recommended, that we no longer recommend due to the quality of these websites dropping over time. We are always listening to our reader's feedback and we will let you know if we find other reputable Asian dating sites with large numbers of Black men being successful.
Regarding general dating sites, they are very much hit or miss from our research and none of them really come close to the best Asian dating sites for Black men. Yes, you hear of some Black men doing well on general dating sites, but by and large, we hear far more disappointing stories than encouraging stories about Black men and the general dating sites. From our most recent research, there is one exception though for general dating sites, and that is E-Harmony. The E-Harmony site did not rank as highly as the Asian dating sites mentioned above, but the E-Harmony matching formulas seem to do a good job of finding compatibility first. Once the initial base compatibility is established, it is easy to filter for Asian women or location from there and the women appear to be more receptive given that you were matched on compatibility already. At this point, E-Harmony is the only general dating app we would recommend for Black Men, Asian Women dating and this is a new recommendation since our last update. If you use E-Harmony, our one caution there is to turn off their automatic renewal feature or you will be automatically renewed and billed at the end of your term indefinitely. They sorta hide the button to turn off automatic renewals, so just Google it if you do not find the button easily.
Our research also shows some Black men being successful finding Asian women with smart phone apps and social media sites, but we do not see one app or one social media group standing out at this time. The advantage of social media sites is that they are free, but the downside is that the free sites are full of people who are not who they appear to be and people who are mainly just looking to waste your time and money. The small amount of money you would spend on any of the recommended sites really produces a significant improvement in the quality and sincerity of the women, so that makes it an easy decision to us.  It all comes down to just finding the right person in the right place at the right time.
Other Articles to Review
We previously published posts on Where To Meet Asian Women and Six Steps For Black Men To Date Asian Women which gives our top ideas on places, activities, and the mindset for meeting and dating Asian women. We also published an article on The Top Crowdsourced Global Cities for Asian and Black Dating, to help identify global cities for Asian and Black dating. Finally, once you are in a successful Asian and Black couple relationship, we invite you to join our exclusive ABC FB group which only admits people in current Asian and Black couple relationships – Asian Black Couples Only (ABCO). This is a very special and unique group and one of the top supportive and loving communities for Asian and Black couples.
Good luck to everyone!